Inavate APAC April 2020 Alva Hotel Case study
AV and ICT systems are brought together by SmarTone Solutions and Comm-Tec to create a guest and in- room experience that is not only seamless for the user but also positively impacts the bottom line of the operator at Alva Hotel, Hong Kong.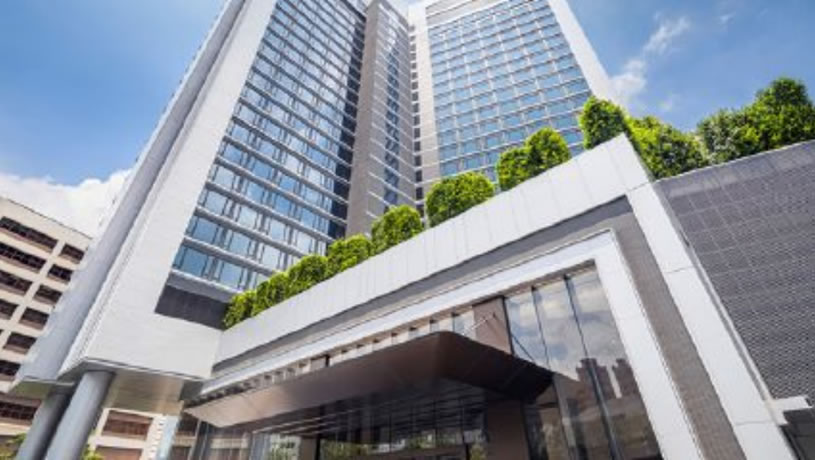 In our recent exploration of the hospitality sector in Asia Pacific, two trends shaping the market were evident. Firstly, hotel operators are turning their attention to the guests and any investment in technology must demonstrate perceptible value. Secondly, AV and IT are coming together to create a new breed of technology systems for hotels which can deliver the outcomes operators require.
With these two trends as a frame of reference, it is easy to contextualise the direction of Alva Hotel in Hong Kong. SmarTone Solutions was engaged to provide a turnkey solution, serving as the consultant, primary contractor and software developer, to create a modern hotel facility. Comm-Tec Asia played a supporting role, lending its expertise to help design and provide AV technology systems for the project.
Daniel Leung, general manager for enterprise solution development, products and services division at SmarTone Solutions, talks about the beginning phase of the Alva Hotel project: "The brief from the client was two-fold. First was the user experience and second was productivity especially within the context of the service provided at the front desk. Guests don't like to queue or wait in line to get to their rooms. Alva Hotel has six counters in the lobby and that is really good capacity to ensure that guest bookings can be verified, and they can be checked-in in a quick manner. But they wanted to improve this even further."
He continues: "In relation to the user experience, Alva Hotel wanted to completely change the in-room experience of the guests with screen mirroring and casting. The trend among consumers right now is that they like to view their own content, be it from YouTube or any other streaming platform. Taking this into account, allowing the users to view their content on the in-room TV was very important for the hotel."
Checking in
SmarTone Solutions proposed and deployed its Cross Channel Customer Engagement Layer [XCCEL] at the Alva Hotel to help it achieve its aims with respect to the guest experience. XCCEL is an integrated digital channel platform with systems such as hotel management, door key management, self-service check-in and more.
Leung from SmarTone Solutions provides further details: "We've built a platform that allows guests at the Alva Hotel to have a completely streamlined experience through an app that can be installed on their smart device. This app allows you to check in or check-out and access all the services available at the hotel. It allows you to turn your mobile phone into the key for your room, you can use it to activate the elevators and much more. From the user perspective, they can do everything by themselves."
XCCEL completely changes the way guests experience the environment at Alva Hotel and Leung says: "The hospitality industry represents one of these economic sectors which takes increasingly intensive advantage of the available ICT systems. ICT plays a specific role and is regarded as the key factor for adding intelligence to a hotel's effective functioning. These ICT systems not only allow improved management and higher efficiency, but also facilitate achieving high service levels which can result in much better satisfaction of demanding guests."
In-room experience
XCCEL also impacts the in-room experience as Leung details: "The in-room guest experience has been automated. With the app users can control the TV, select the channels, mirror their device or cast from it and even access services such as housekeeping. The guests don't really have to call the operator anymore as all the services can just be accessed from the app. All of this is made possible with the cross channel customer engagement layer that we have developed which links with all the other systems via APIs and has an intuitive GUI."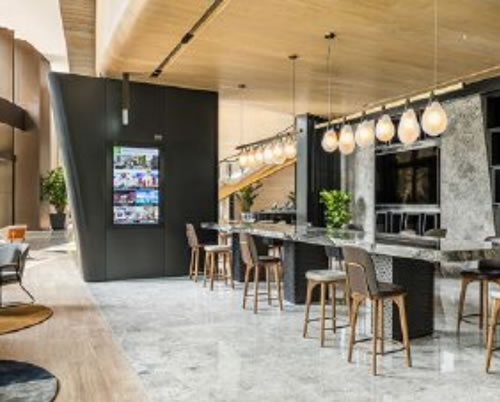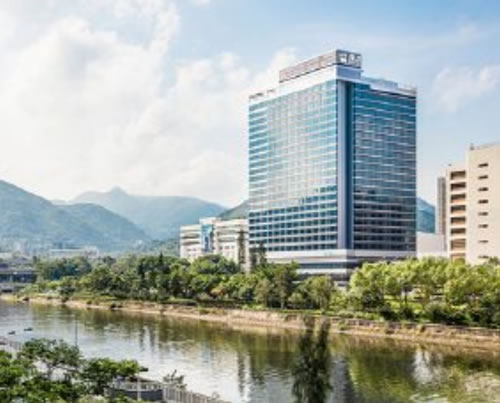 Alva Hotel aims to offer a different value proposition in the hospitality sector interconnected technology systems
But the real wizardry in the rooms at Alva Hotel is the IPTV system. Magnus Lam from Comm-Tec Asia details: "We selected ZeeVee as the IPTV headend and Exterity IPTV server is used for distribution. The content signals are received via satellite and received by the ZeeVee headend. ZeeVee then converts the signal to IP and it is passed along to the Exterity servers and distributed to the Sony TVs in the hotel rooms. The unique thing about the IPTV system at the Alva Hotel is that there are no set-top boxes in the rooms, we use the built-in media players in the Sony TVs along with the robust IPTV system that has been deployed."
The products deployed were selected to ensure the best possible outcome for Alva Hotel. Chris Yang, managing director at Comm-Tec Asia says: "ZeeVee was crucial for the IPTV system. We are using the ZeeVee HD Bridge and it is a card-cage unit. With regards to expansion, we can just add cards in to support more channels and expand the system. It not only provides mission critical service but also the flexibility to upscale. The decision to go with a cage-based system meant that we could avoid having just boxes and boxes in the headend. Not having a set-top box in the rooms is also very unique. The set-top box is an additional point of failure in the overall system and SmarTone Solutions' proposition to the hotel operator meant that there is no need for additional power supply and an additional point of failure and that appealed to the client."

With SmarTone Solutions'XCCEL guests at Alva Hotel are offered a different user experience where they are in the driver's seat
Leung from SmarTone Solutions adds: "ZeeVee was able to provide a cost-effective and large capacity headend system. This is becoming more important in hospitality because of the change in consumer behaviour where guests want to be able to access their own content which means that hotels are no longer willing to invest heavily for in-room content systems. But at the same time, TV is almost a mandatory service in hotels. So, we have to explore technology that is cost-effective and easily expandable."
HDCP compliance and content protection was a requirement and both ZeeVee and Exterity products provided this. IPTV signals are distributed via Cat cabling and four Netgear multicast IP switches.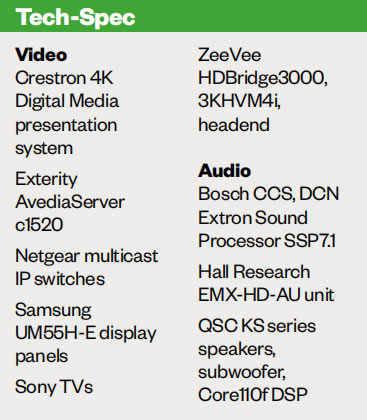 Lam from Comm-Tec Asia explains the qualitative impact that the designed IPTV had: "There are approximately 600 rooms at Alva Hotel, which means that 600 set-top boxes have been replaced with just four Netgear multicast IP switches and the Exterity distribution system. This offers significant cost savings to the hotel."
The decision to create the in-room experience Alva Hotel desired came with new challenges for the integrator but these were overcome with teamwork. Leung from SmarTone Solutions says: "With the mirroring and casting features we implemented, we needed a good UX to ensure that the guests would be able to use it. On the other hand, we also had to protect and ensure the security of the content that is being cast. Not compromising the UX and the security meant that we had to implement special network segmentation. But this arrangement together with IP multicast meant that the complication of the network design increased. Fortunately, we had a good partner in the form of Comm-Tec and they were able to provide us a good design for the network infrastructure to provide IPTV services together with mirroring and casting and a very simple way for guests to use it in a very simple manner that does not require any complicated procedures to access it."
AV technology has also been deployed in other spaces of Alva Hotel as Leung from SmarTone Solutions says: "Alva Hotel seeks to cater to young professionals which is why it has invested in its facilities such as the digital gym. It features a videowall and a 5.1 speaker system. The Crestron DM ensures that different content sources and IPTV can be delivered to the videowall. We use a Hall Research audio de-embedder to strip the audio signal from HDMI after which it is fed to an Extron processor and then sent to QSC speakers to ensure quality audio."
The 3 x 3 videowall comprises Samsung UM55H-E flat panels. As Leung mentions, a Crestron 4K Digital Media presentation system is used to manage the video and content sources. Audio is provided by QSC KS series speakers and subwoofer with a QSC Core110f DSP, Extron Sound Processor SSP7.1 and Hall Research EMX-HD-AUD unit working in the backend.
Regarding the challenges faced during the course of the project, Leung from SmarTone Solutions says: "Managing the project was the biggest challenge. We have a good relationship with the customer but as the project progressed the requirements changed as well. As the prime contractor, we had to expand the scope of our involvement to make sure that the project was completed on time."
He adds: "The technology and the products that we are using might be very mature, but integrating it together is something different. There are always complications that we have not foreseen that arise during the implementation and it is our job to put the whole system together."
Yang from Comm-Tec says: "We were working with a lot of different brands and we had to smoothly deploy approximately 600 rooms. We had to get the Netgear switches working, deliver mirroring for the in-room TVs and one of the challenges was the installation time we were given. Luckily, we had support from the suppliers, especially from Exterity and ZeeVee. This meant we could do quick turnaround for any changes and we were able to resolve all issues."
Leung from SmarTone Solutions believes that the future of hospitality is interconnected. He concludes: "I'm currently drafting the roadmap for the future of our smart hotel solutions. There are three major trends influencing the market. First is IoT which is a mature technology now, with the additional of sensors anything can be turned into a digital endpoint. Second is 5G which be an important addition to hotel infrastructure allowing guests to access more robust wireless networks and thus allowing us to do more with apps. Lastly, we will need data analytics to be able to understand how guests are using the technology so that hotels can explore additional revenue streams."
The decision to go with a cage- based system meant that we could avoid having just boxes and boxes in the headend.
——Chris Yang, Comm-Tec Asia
Inavate + ZeeVee: Delivering AV distribution options for hospitality
IPTV distribution has been a mainstay of the hotel and hospitality industries and, as a result, there is a regular call for higher performing and more efficient solutions. For instance—by reducing the number of components in a system, and increasing the capabilities of each, hotel brands and their integrators can lower the number of system failure points and keep costs down. For the digital headend of the Alva Hotel AV system, the integration team chose the ZeeVee HDBridge3000, which maximizes value by encoding multiple IP streams in one compact chassis.
What are the advantages of the ZeeVee HDBridge3000?
The HDBridge3000 provides superior performance for distributing HD content to an unlimited number of displays throughout the hotel facility. Featuring a modular design for hot-swappable cards, it allows for future expansion as needed and each rack can be populated with up to 48 channels of H.264 IP streams. For this project, multiple HDbridge3000 units were combined to deliver additional channels to hotel guestrooms.
With built-in management software, the HDbridge3000 makes it simple to set up and manage channels, content and more from anywhere on a network. Hotel staff can control satellite, cable and other supported receivers directly from the web interface.
Broad range of AV distribution options
ZeeVee is a global pioneer and leader in the development and deployment of AV distribution systems for hospitality, commercial, residential and industrial applications. In addition to solutions like the HDBridge3000, the company has established itself as a leader in the AVoIP content distribution market with its award-winning ZyPer4K (uncompressed 4K60 4:4:4 HDR support), ZyPerUHD (compressed UHD/4K 4:2:0 HDR support), ZyPerHD (compressed HD up to 1080p) and ZyPerMX (compressed H.264 MPEG-4 up to 1080p) lines of encoders and decoders. In fact, ZeeVee is the only company in the world offering solutions for digital AV distribution over both IP networks and coax-based systems, including products with simultaneous IP and RF output. ZeeVee also offers the AV industry's most extensive line of IP-based solutions.
The company's ZyPer4K solution, which delivers uncompressed 4K video with near zero latency, has been featured in hundreds of hospitality and public entertainment-oriented environments, including the Basketball Hall of Fame, the Tottenham Hotspur Stadium, Samsung KX London Experience Center and the Burj Khalifa to feed interactive displays, large screen 4K monitors and digital signage.
For all end-user requirements—AVoIP, video streaming or RF—ZeeVee products enable integrators to tailor solutions to meet demanding specifications and tight budgets, utilize existing infrastructure where desirable and provide cost-effective roadmaps for customers looking to migrate from proprietary-based systems to fully IP-based networks
Hotels are no longer willing to invest heavily for in- room content systems. But at the same time, TV is almost a mandatory service.
——Daniel Leung, SmarTone Solutions