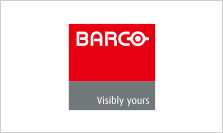 BARCO
ClickShare wireless presentation systems
For wireless presentation systems that offer a seamless, user-friendly and hassle-free experience, look no further than the Barco ClickShare range. With ClickShare, you can share presentations in an easy and straightforward way, without having to fiddle around with wires, cables and adapters.
ClickShare wireless conferencing systems
For closer collaboration and an immersive conferencing experience, ClickShare wireless conference systems have just what your business needs. Connectivity is at the heart of modern business, and with wireless conferencing technology from ClickShare you can link up with colleagues in a matter of seconds.
---