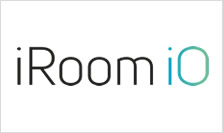 iROOM IO
IO Smart Control - Premium Smart Home

iRoom's IO Smart Control is an open control platform with connectivity to popular IoT services such as Apple Homekit , Amazon Alexa Google Assistant or EnOcean and offers mobile app and voice control of lights, shades, and power outlets as well as third-party control with control systems such as Crestron, Control4, Savant and many more.
Switch to Simple
iRoom's IO smart interfaces turn any standard light or shade switch into smart devices that connect to Amazon Alexa, Google assistant, Apple HomeKit (coming soon) and EnOcean and opens a whole new world of control and automation without the need of rewiring your home.
Switch to Wow!
All you need is iRoom's smart interface, installed inside the wallbox of your light or shade switch. Convert your existing light & shade switches into smart connected switches and add simultaneous voice and app control.
---